I found a Cave Swallow (Mexican race) here in Spalding County by my house, 08/10/06. It was in with 500+ other swallows. The fields near my house were being cut, and the swallows were just swarming all around. I watched the Cave fly by a handful of times as it made a huge circle around the area. I could see the top and bottom of the bird quite well while studying its head and neck.
I attempted a number of photos, but they did not turn out well. I included a couple below and included a drawing illustrating the position of the bird. Interestingly, the photos, as bad as they are, still show field marks consistent with Cave Swallow.
The rump is light as can be seen in the photos. Fortunately the dark tail makes the light rump area visible in the photo. The dark areas of the bird show up but the light areas are hard to see, ok very hard to see. That is why the head is almost indistinquishable because except for the dark cap the head and throat were light on the bird. This makes the bird look almost headless in the photo(s). A Cliff Swallow would show a dark head in the photos, in my opinion.
I haven't really examined all the other photos, but I expect them to be of similar quality because of the limitations of my inexpensive camera. I probably couldn't have gotten a good photo unless the bird were to perch somewhere.
Cave Swallows are accidental in GA but certainly increasing. Records/reports have been from Macon, Phinizy Swamp, Augusta Brickyards, Lamar/Monroe County, now Spalding County, and the coast, and the dates of occurence have been Aug thru Feb.
Eric Beohm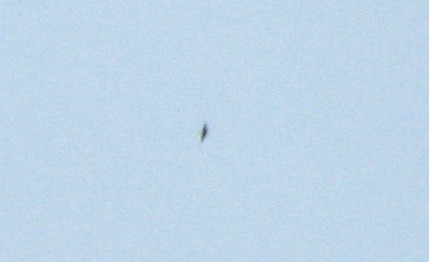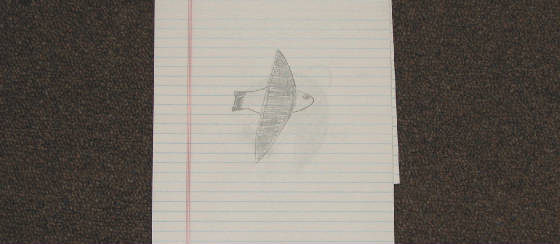 The drawing illustrates the position of the bird in the photo.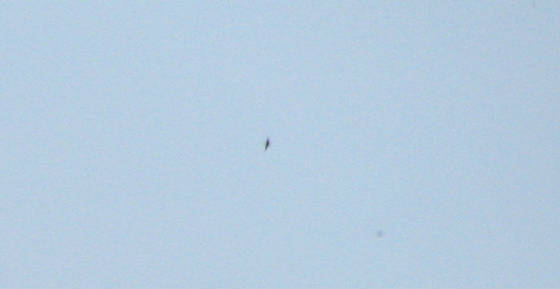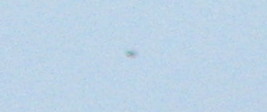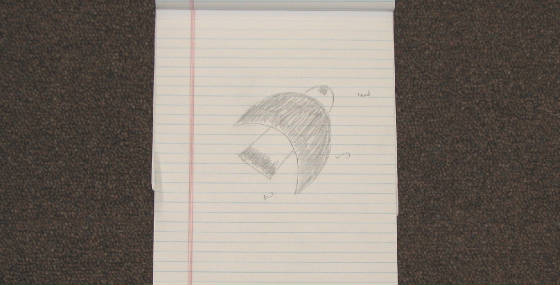 Cave Swallow...or maybe a UFO abducting Big Foot and Elvis to take back to the mothership.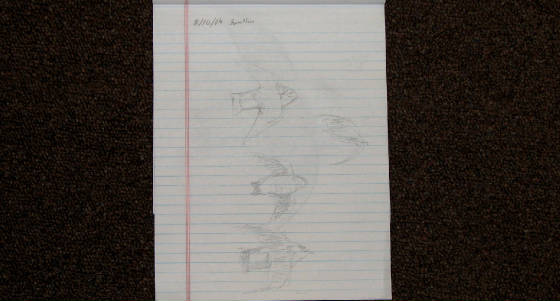 Here are a couple quick sketches I made right after seeing the bird and before looking in a book. I had written notes that may be indiscernable in the photo which basically outline all field marks consistent with Cave Swallow such as the pale throat, pale head and neck, dark cap, light rump, etc.