March 19, 2014, I discovered this Little Gull at Lake Hartwell, GA.
Eric Beohm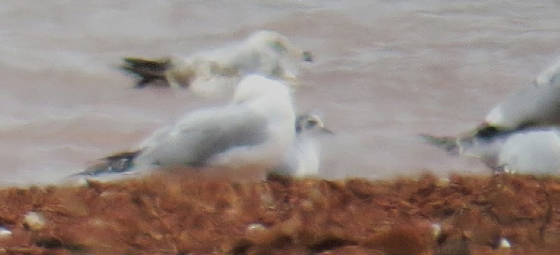 Little Gull in the middle, note the small round head, very tiny bill, and dark cap.

Little Gull was noticeably smaller than the Bonies with a dark cap and shorter primaries.
Here is a Little Gull I found near Long Point. It flew in and immediately worked its way around the tip of this peninsula. I was blessed to see it before it disappeared behind the gulls and onto private property. Note the small body, small bill, dark cap, and short primary projection. I could see that the primary tips had noticeable black which would suggest a second winter bird. The bird was so small that it kept disappearing behind even the Bonies. I was fortunate to get these photos as it would emerge from behind other gulls. Interestingly, also this winter I had a possible adult Little Gull which I reported near the dam back in Dec.